Trade exhibitions 2023
New Product Announcements - electronica 2022
PCIM Europe – the Event for Power Electronics
PMK präsentiert erstklassige Tastkopf-Lösungen für die aktuellsten Anforderungen in der Leistungselektronik auf der PCIM Europe 2022. https://pcim.mesago.com/events/de.html
Wenn Sie eine kostenlose Eintrittskarte oder einen persönlichen Termin an unserem Stand wünschen, kontaktieren Sie uns gerne via sales@pmk.de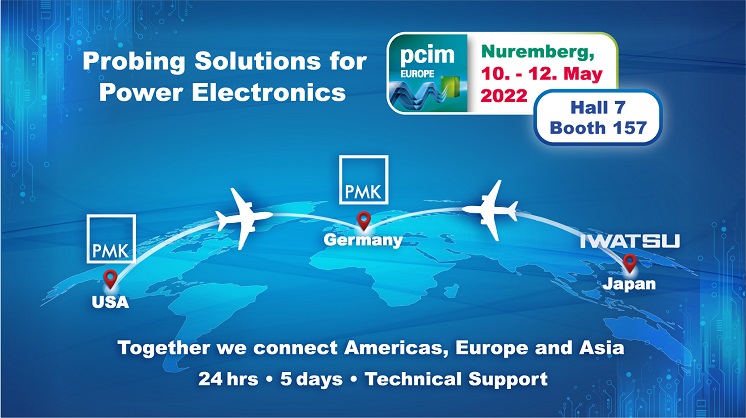 The PCIM Europe is the world's leading exhibition and conference for power electronics, intelligent motion, renewable energy, and energy management.
This is the place where representatives from the fields of research and industry come together, where trends and developments are presented to the public for the first time, and where the entire value chain is covered – all the way from components to intelligent systems.
We are delighted that the power electronics community will come together live again in Nuremberg from 10 – 12 May 2022. But this is not all. This year, the PCIM Europe will be complemented by a digital offering. Exhibitors, visitors, attendees and speakers can also network, learn about the latest industry trends and expand their knowledge on the digital event platform as part of the hybrid event concept. The on-site event in Nuremberg is accompanied digitally beforehand, in parallel and afterwards. By linking the digital and analog worlds, we aim to create a holistic event experience that provides insight and exchange and offers all event participants around the world the chance to join the power electronics community.
Your safety is our highest priority. Here you can find information about the hygiene concept of the PCIM Europe 2022.
https://pcim.mesago.com/events/en/planning-preparation/hygiene.html
Read more
close
Announcement: Foundation of PMK America Corporation
We are excited to announce that we are launching our new PMK America Corporation.
PMK America Corporation will be our new subsidiary located in Portland Oregon, USA, specializing in technical advice for probing challenges and customized probing solutions for our customers in the Americas. This enables PMK to provide you the best possible service and support. Over the next couple of months, we will be able to accept direct payments in USD, and give technical advice in your local time zone.
If you're interested in learning more about latest probing solutions and meeting with our new America's team, feel free to visit us at our APEC booth 1833 from March 21st to 23rd 2022 in Houston, Texas.
Read more
close